History of Dental Implants

Happy Valley, OR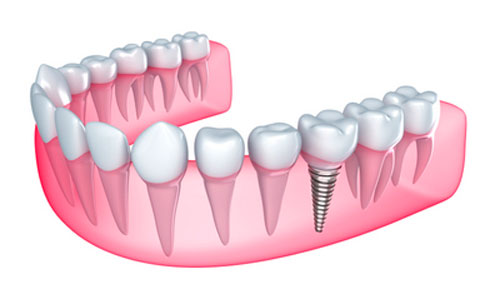 Your oral health should be an important part of your everyday life. It should be something that you strive to maintain, in fact, and that you give much attention and consideration to. This means that you should visit us regularly for cleanings and for checkups. It also means, however, that you should not hesitate to visit us if you notice something abnormal in your mouth or are in an accident that deals traumatic injury to your teeth, mouth, or jaw. When the worst happens and you have to have a natural tooth extracted, the dentists at Fusion Dental Specialists will be happy to fit you with a new dental implant that will function just like your natural tooth! Did you know that dental implants are not a new concept? In fact, they have a long and ever improving history.


What is a dental implant?

A dental implant is, as the name aptly implies, an implant that is embedded into the empty socket that remains after a natural tooth is extracted. This implant eventually fuses to your jawbone, providing natural function and a natural look. It might seem strange to consider given how advanced the technology feels, but dental implants actually have a long history that began as long as 4,000 years ago.


The First Dental Implants

The very first dental implants perhaps originated in China. 4000 years ago, bamboo pegs, carefully carved to fit, were often used as a replacement for missing teeth. These were inserted much like implants today are, although the process was decidedly less advanced and efficient. These pegs didn't fuse to the bone and failed to provide natural function (or appearance, of course), but they were still considered a viable option. Dental implants were also found in Egypt, where 3,000 years ago, a king was fitted with a copper peg to replace a missing tooth. It is worth noting, however, that both this option and the iron false teeth that came later in France were probably affixed after death. The installation process would have been far too painful to handle while alive.


The Evolution of Dental Implants

We have certainly come an incredibly long way since the bamboo pegs that were the go-to option to replace teeth 4,000 years ago. Note that it was not until quite recently that dental implants actually saw widespread success and development. While attempts were made in the 18th and 19th centuries to make use of dental implants, the process was too unrefined and the dentists did not know enough about how to ensure that a patient's body accepted the foreign materials to make them successful. As a result, it was not until relatively recently, in 1952, that an orthopedic surgeon accidentally discovered the properties that would eventually fuel our dental implants: the ability of certain materials, like titanium, to fuse with bone instead of being rejected.

Today, of course, dental implants have one of the highest success rates of any dental procedure out there. For more information on how dental implants can help you, give us a call today at (503) 653-2299!